This year, Istanbul hosts the great technology events in November! Google announced this event as "The biggest Google tech conference in Istanbul carefully crafted for you by GDGcommunity!"
Google DevFest gathered the tech and design minds in Istanbul, yesterday 🙂 Like all developers, I'm following Google's developer events for tracking cool technologies, meeting other people who's working on same or related areas with mine, catching the news about technology that Google's used and  getting some new ideas, aspects about existing ones, but this time there was a little difference for me owing to two of my closest friend was giving a speech at this great event.
Developers and designers had a good reason to get off their warm beds and houses at this very cloudy autumn morning. DevFest started with a very frank, wellcoming speaking by Barış Yesugey, Google Developer Relations Region Head. He talked about GDG, Google's programmes for developers, relationships with developers, content sharing and finally mentioned about Google Developer Experts and GDE's sharing their experiences with other developers via giving speeches, attending conferences, writing books and creating contents.
Always, there was a huge demand for Google Developer Days, but this time, demand was restricted due to the event hall capacity. Attendance is around 900 and there was over 30 sessions. Event was hosted by Bahçeşehir University.
I had a chance to attend Büşra Deniz's  presentation about Google WebRTC on Mobile. If you're thinking video and audio streaming peer to peer, you should check her speech, that was a very clear brief about the video call, audio call with WebRTC technology. By the way, Speakers share their presentation slides, I recommend you to follow and get a quick look if you can't attend the event.
Marie Schweiz gave a fancy speech about animations on Material Design in a good way of story telling. The key points are; One pen with 2 sticky papers is enough to sketch and visualize the design interactions and scenes for wireframing. Your animations should create feedbacks to your users interactions with your app. Design / Animation Design should be considered in the beginning of the developing the product.
There was some technical issues on the room, but she had so much positive energy and she stayed engaged to the point of her presentation.
I'm very proud of being introduced these young, powerful, beautiful ladies – Elif Boncuk and Esin Işık – in couple years earlier and have very close friendships with them. They have full of energy, inspiration, knowledge, wisdom and bravery. They believe on what they do, so they create excellent works as expected.
Thanks for Elif Boncuk such a great presentation. She spoke about optimizing Android apps for better performance, how we measure, track our app's performance, improve with tools to provide good experience to our users and be faster! She examined CPU and GPU process, battery usage tracks, and how getting information about your apps' drawing processes. You can find the slides of presentation here. Cool droids are on the some pages. 

Another great design talk was about defining UX metrics as a teamwork and made by Esin Işık. The main point was about how we as a team, gather and decide on UX metrics of our applications. "The important key is being in the same page and dream together." Of course, getting feedback and interpreting this data is difficult.  We can make a trend analysis after lunching our app and commenting the result.
After the sessions, all I see are the questions for how do we better? what points should we improve ourselves? We should try to create tipping points for design, make, create, develop things in a better way always.
You can reach all the sharing about events with #dfist hashtag on twitter.
I want to thank GDG Team. That was a great work.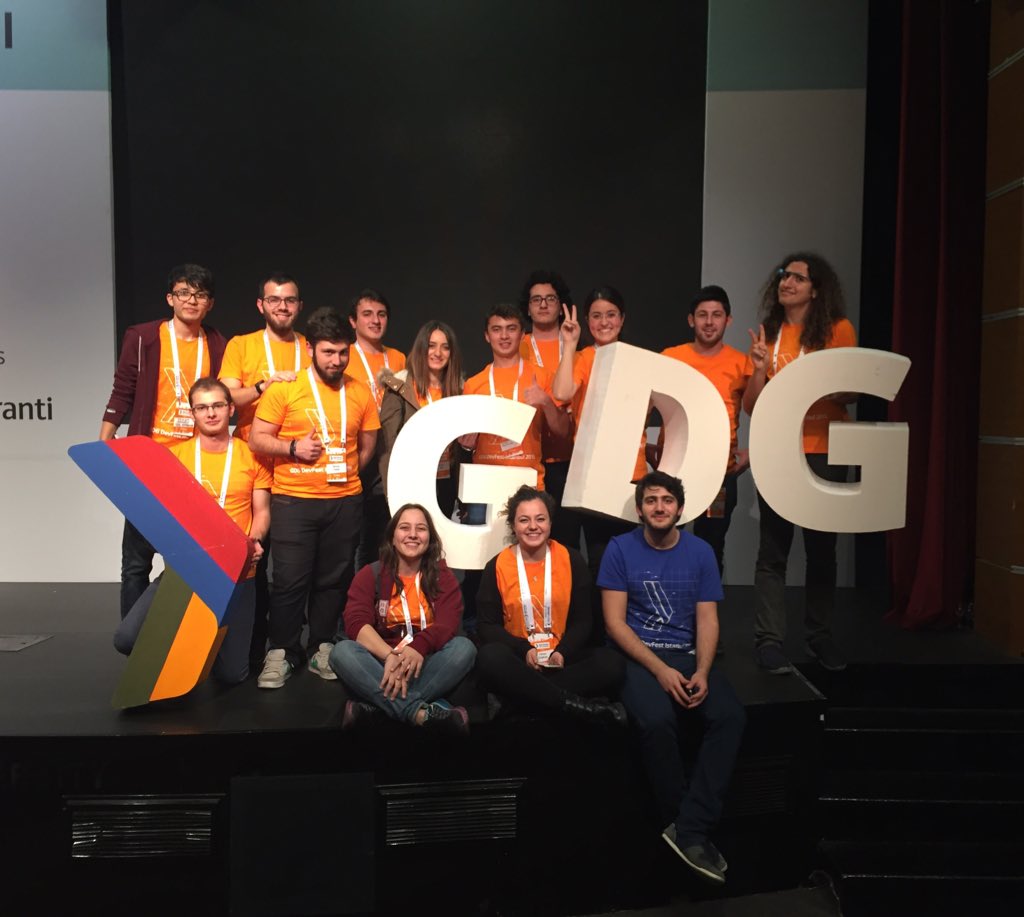 Have a great week!